Summaries are a crucial element of social media posts and are a great way of marketing online. Summarizing a lengthy description of a product or service makes it easier for the audience to understand what they are interacting with.
Markets and companies are more focused on quality social media marketing because half of the world's population are social media users. Therefore, marketers can present concise versions of their products or services to achieve greater reach.
But how can one summarize a description full of hundreds of words into a couple of lines? In this article, we will guide you on how to summarize your blog post for social sharing. We will also talk about why it is essential to summarize social media content so you can get a proper idea of how things work.
Why are Summaries Important for Social Sharing?
A content summary is a short description of the critical elements of an article. These summaries can be featured in the captions of social media posts representing our blog. This way, the readers can get an overview of the blog's contents.
Moreover, each social media post has a character or word limit. It means you cannot post a complete blog. But only share a link to the whole blog with a summarized caption to give a glimpse of the entire blog. The limitations of some of the most influential social media platforms are mentioned below.
Twitter: 140 characters per tweet (may vary if it involves media)
Facebook: 63,000 characters per post (which is roughly 10,000 words)
LinkedIn: 1300 characters
Instagram:2200 characters
As you can see, there is little space for words in the social media captions. Therefore, you can only share a link and paste a summarized caption that can elaborate on the contents of the complete article.
Writing Summary for Social Media Sharing
Here we have mentioned two different methods of summary writing for social media sharing. Each technique will give you quality results, but it depends on your understanding and application to adopt the most suitable one.
Method# 1: Manual Summary Writing
Manual summary writing follows a detailed step-by-step approach which requires time and effort. So, follow these steps to the excellent social media sharing summary.
Step# 1: Make an Outline
The first step you need to perform is to analyze your blog for an outline. In a blog post, you may find multiple headers and critical points. They can also be in the form of a numbered list of bullet points.
Therefore, go through the outline of your content and separate a list of key points that give a broad idea about your blog post.
Step# 2: Focus on Prominent Features
The next step is focusing on the prominent features mentioned in your blog post. These features may include any special services, discounts, or even the main keywords that denote the niche or purpose of your blog.
Step# 3: Compile All the Information
The final step is compiling everything you have highlighted from your blog in your own words. Think of the summary as a review from your perspective.
You must step in the reader's shoes, understand their problem, and present a solution accordingly. Also, feature the primary keyword in the social media summary.
Method #2: With Automatic Summary Generator
Suppose you don't have much hands-on experience with manual summary writing. In that case, you can take assistance from a summary generator to make any summary that suits your social media profile length.
A summary generator gives you many options and features that make the summary writing process a breeze. It only takes a few clicks and seconds to generate a unique summary. So, follow these easy steps to make the ideal summarized caption for your social media sharing.
Step# 1: Give Text Input
The first step is to input the blog post to the summary generator. You can do this by pasting the content directly in the input field or uploading a file from any document format.
Step# 2: Set the Summary Length
The next step is setting the length by words or percentage to make your content concise. An ideal method is to state the words according to the limit of your social media platform to create the perfect caption. If the language is different from Standard English, you can also change it.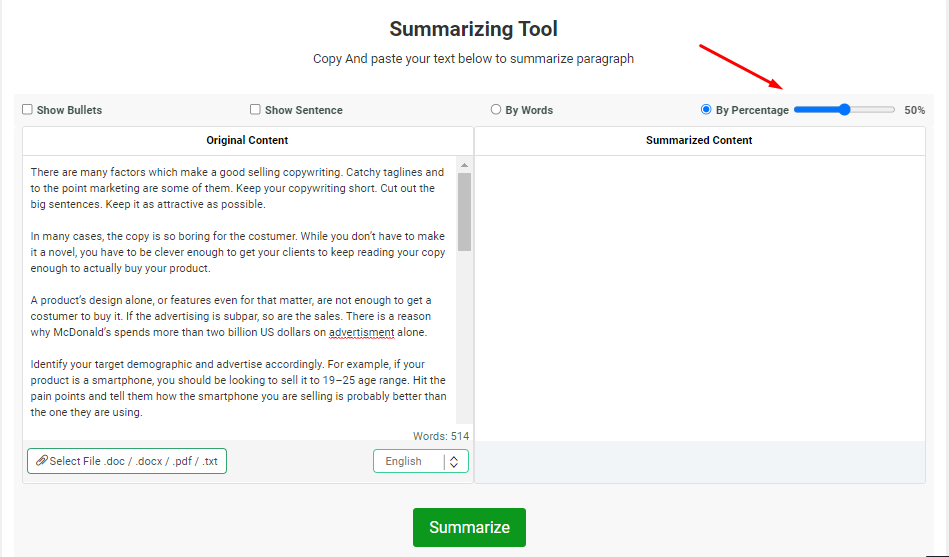 Step# 3: Fetch the Output
Once you've set the summary length and chosen the appropriate language, click the 'Summarize' button. The tool will provide you with a summary output within a few seconds. You can copy and share the summary on your social post to promote your blog.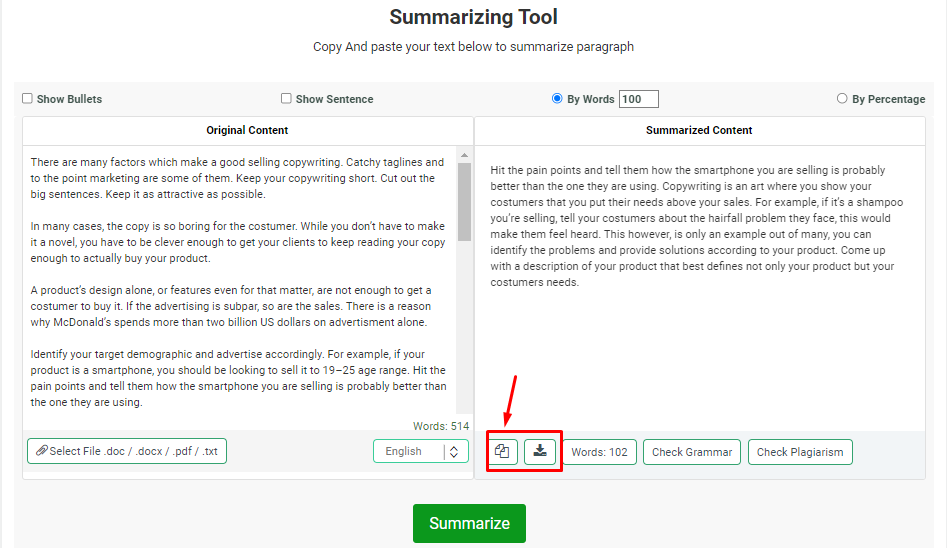 Essential Elements of a Summary
Below we have mentioned the essential elements of the summary, which should be assured when writing it for social media posts.
Purpose of your summary
Length of the summary, which should be between 120 to 200
Covers primary keywords
Discuss the main points of the article
Contains short sentences
Conclusion
Summary writing is an essential part of almost every type of writing. Whether you're writing a blog post, social media post, academic essay, or even a research paper, readers are always looking for a glimpse before dedicating their time and attention to the full version.
Therefore, it's ideal to arrange all the elements of your writing into a concise version to gain your reader's attention. Summary writing helps you to apply and concisely learn knowledge.
We shared two different methods of summary writing in this article: manual and automatic summary generation. We hope this article helped you to understand the importance and generation of summaries in social media sharing.